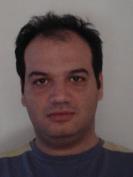 Research_Interests:
Multiagent systems for energy efficient buildings
Mr Kofinas Panagiotis has received a BEng in Automation Engineering from Piraeus University of Applied Sciences (Technological Educational Institute of Piraeus). After its completion he gained an MSc with title "Advanced Industrial & Manufacturing Systems" from Kingston University, London, U.K. The title of his MSc Thesis was "Research study on micro-inverter using solar cell/panel modeling subsystems, solar inverter simulation, maximum power point programming and techno-economic study ".
Since 2007 he is working as an adjunct lecturer in the department of Automation Engineering of the University of Applied Sciences of Piraeus.
Currently he is pursuing a PhD from the University of Piraeus in the field of computational intelligence and multi-agents systems for microgrids intelligent energy management in buildings. His research interests are fuzzy logic, neural networks, optimization, smart grids, photovoltaic systems and multi agents.